Corporate Overview
Irifune Logistics Co., Ltd.
Irifune Logistics Co., Ltd.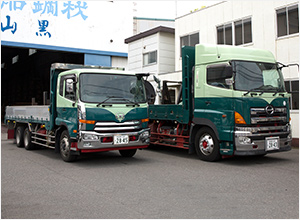 Corporate name

Irifune Logistics Co., Ltd.
Foundation

February, 2017
President

Katsumasa Ichino
Address

Head Office

Daiki Bldg. 6th Floor, 3-11-12 Hatchobori, Chuo-ku, Tokyo 104-0032, Japan

Urayasu Office

2-2-2 Tekko-dori, Urayasu-shi, Chiba Prefecture 279-0025, Japan
TEL +81-47-305-7160
FAX +81-47-305-7161
Business Details

General cargo automobiles transportation business
Number of Employees

8
Facilities

14t Flatbed trucks: 3, 12t Flatbed truck: 1, 8t Flatbed truck: 1, 4t Flatbed truck: 1
Handling Products

Steel materials in general, Concrete products, Pre-cut steel materials, Construction machines and equipment, etc.
Remarks

Putting energy into transportation of steel-materials based on the motto of 5 s (Safety, Speed, Services, Sincerity and Smiling)
All of our trucks are fully equipped with the stanchions. We use the 8t and 12t trucks that are the same size as 4t trucks, therefore we can deliver all of products at once even to the place with narrow space.
We have various discussions in the monthly meeting, aiming at improvement of qualities and prevention of accidents.